Here are the next two (without the four month delay)

SEMI-PRECIOUS MEMORIES VOL. 5
Disc 1
1. Handsome Molly (7/29/61 NYC) - A traditional song, there are only two recordings circulating, but he could have played it many more times. This first is from one of the first recordings of Dylan, in the Riverside Church (at which he also performed the only recordings of Mean Old Railroad and Acne with Ramblin' Jack). The second is from the famous Gaslight bootleg.
2. Talkin' Bear Mountain Picnic Massacre Blues (9/2?/61 NYC) - One of the first Dylan songs I heard, believe it or not, it cracks me up every time I hear it. The talkin' blues were a style that only young Dylan could pull off. Only two recordings of this one as well.
3. Man On The Street (9/6/62 NYC) - A Dylan original (though the tune was cribbed from a song called Young Man Who Wouldn't Hoe Corn). It's an interesting song about a homeless man who dies in that it doesn't, either explicitly or implicitly, blame anyone, nor does it make the issue to seem any bigger than one isolated, somewhat sad an
ecdote. In addition to the few live performances, it was recorded for the self-titled album. That take was later released on the Bootleg Series 1-3.
4. Lonesome Whistle Blues (1/13/62 NYC) - This Hank Williams tune, not to be confused with the Fred
die King song of the same name, has some great harp work by Bob. While an obvious choice for his early days, he brought it back almost thirty years later for the Toad's Place show (and then one after).
5. Hard Times In New York (2/62 NYC) - A quasi-original, it was performed four times in the early 60's, twice live and twice in various apartments.
6. Standing On The Highway (2/62 NYC) - Another very early (and somewhat unmemorable) original, this version is from Cynthia Gooding's Folksinger's Choice radio show. It was also recorded as a Leeds Music demo.
7. Rocks And Gravel (7/2/62 Montreal) - A Freewheelin' outtake, it was probably a coffeehouse regular, as it appears on both of the two biggest recordings from that era, the Finjan club and the Gaslight. Some nice, droning finger-picking (not as big of a contradiction as it may sound) with a rare glimpse at Bob's early falsetto.
8. Who Killed Davey Moore? (4/12/63 NYC) - A weird spoken-word intro leads into this great number made widely available on the Live 1964 disc a few years ago. It's an absolutely brilliant song about both scapegoating and avoiding blame. Read more about the boxer here. Phil Ochs also wrote a song called Davey Moore. Not surprisingly, i
t
's far inferior.
9. When The Ship Comes In (10/26/63 NYC) - This one seems prime to have been a concert staple over the years, so I have no idea why he only performed it twice. It's a great song, and not that different than other warhorses, like The Times and Blowin in the Wind. At any rate, he only performed it twice, here (almost released on the In Concert LP) and at Live Aid with Keith Richards and Ron Wood in '85. This version is great. The Live Aid one...well, here's a video.
10. Restless Farewell (2/1/64 Toronto) - A very interesting song, in that it has a very ambiguous rhythm (especially on the album version), it's got some great lyrics, and would have been prime for a 2000 Larry/Charlie rearrangement. This performance is from Quest TV, where he performed a few songs on this television show, and the other is from the Frank Sinatra tribute concert in '95.
11. From A Buick 6 (8/28/65 NYC) - The Highway 61 song most people forget exists, it gets a couple muddy renditions in '65. Unfortunately, neither of them is particularly memorable, not doing justice to a song that's actually pretty good.
12. Wedding Song (1/7/74 East Philadelphia) - A hugely underrated song from Planet Waves, Bob nails this declaration of love in a couple live solo acoustic takes. It is perfect for his '74 voice, and probably wouldn't work in any other era.
13. Spanish Is The Loving Tongue (5/9/74 NYC) - A very nice version on Dylan, the recording qualities here are
somewhat lacking, making it less enjoyable than it might otherwise be. The song is from 1915 (if not earlie
r) and has also been covered by Emmylou Harris.
14. Deportee (5/19/76 Wichita) - An old Woody Guthrie song, Baez joins Dylan for great readings of it in Rolling Thunder part II. The Ft. Worth recording quality is significantly better, though nothing beats the Hard Rain video of it here.
15. Lonesome Bedroom (2/20/78 Tokyo) - This Ernest "Buddy" Wilson song was the first Bob performed live in '78, opening this show with it. The Tokyo show also features the live debut of The Man in Me. In subsequent shows, it become the second song, after A Hard Rain's A-Gonna Fall.
16. A Change Is Gonna Come (7/1/78 Nurnberg) - A nice vibrant intro for his background sinder (and wife from 86-92) Carolyn Dennis to start the 78 version, but the '04 rendition is far more memorable. One of the highlights of the year, it was for a Sam Cooke tribute, and features an equally stunning video.
17. The Groom's Still Waiting At The Altar (11/13/80 San Francisco) - A Shot of Love outtake which was later included on the CD, it got five versions in 1980, and they sound great. Of special note is that 11/15 version, not included here unfortunately, featuring Like a Rolling Stone guitarist Michael Bloomfield shortly before he died.
18. Jesus Is The One (7/9/81 Drammen) - An obscure Dylan original, it received nine live '81 per
formances before disappearing, never to be heard from again.

http://rapidshare.com/files/11777144/SP_5-1.zip.html

Disc 2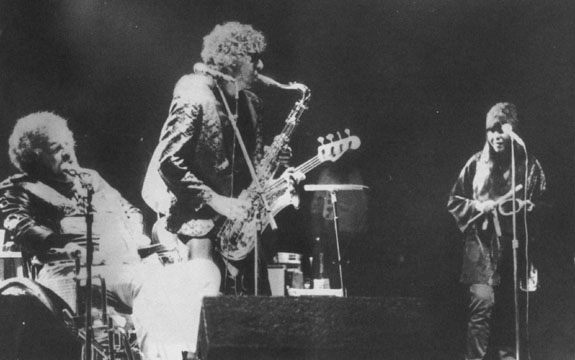 1. No Money Down (vocals: Larry Keegan sax: Bob Dylan) (10/19/81 Merrilville) - Yes, you read right, Bob on sax. The occasion was a disabled friend from childhood Larry Keegan taking vocals, leaving Bob to experiment with an instrument he's probably never picked up before. For a gimmick, he does decently well on the generic blues riff between the lines. Everything else...well, what you'd expect. Oh yeah, and it's a Chuck Berry song.
2. Happy Birthday (10/25/81 Bethlehem) - Believe it or not, Dylan has actually serenaded people on stage with this one seven times, four in '86. I can't make out who this one's for, but the '03 one is for Larry Campbell, his gui
tarist. Wonder if Jacko got his cut.
3. Why Do I Have To Choose? (6/2/84 Basel) - A great cover of a Willie Nelson number, Bob played it eight times in '84, and really nailed the delivery. The Milan one especially is incredible, thanks to soundboard-esq quality.
4. Tupelo Honey (w/ Van Morrison) (7/8/84 Slane Ireland) - When Dylan plays in Ireland, native Van the Man has a tendency to drop by, as he did on this one in '84 and '91. Tupelo Honey, the album, was Van's tribute to domesticity, and it's interesting that Bob played this in '91 only a couple months before he debuted New Morning live, which is his tribute to the same thing. Check out a bunch of videos of the two of them together at, where else, youtube.
5. Instrumental (2/5/86 Wellington New Zealand) - I think this instrumental is just an unfleshed-out version of the opening song Justine from later in the tour. It's a lot better then.

6. Go Down Moses (9/5/87 Tel Aviv) - Wow, I didn't realize this song was the hymn I've sung in church before, the one with "Let my people go." Now, this is not to be confused with the cover of Little Moses, which he's performed 96 times. Anyway, I try to keep these Memories posts pretty textual, but here's another pic, or him in Israel in '87 (for his son's bar mitzvah maybe?).
7. Hallelujah (7/8/88 Montreal) - An unbelievable Leonard Cohen song which, in my opinion, needs to be sung by someone with a beautiful voice. So, while Bob gives it his all, that and the hard-rocking band just doesn't do it for me. Listen to Allison Crowe's to hear how this song was meant to be done.
8. Wagoner's Lad (10/17/88 NYC) - Now this is what a cover should sound like. Bob's singing and guitar playing are spot-on as he sings the tale of a would-be suitor vetoed by the parents.
9. Congratulations (6/6/89 Glasgow) - I believe this is the only Travelling Wilburys song Bob ever played live, and he did it twice in 89, and then at the famous Toad's Place show (which would take up half of any one-offs compilation). He does it nicely, investing it with quite a bit of harp, and it's a shame he didn't do more of the Wilburys stuff. Maybe one day.
10. House of Gold (6/15/89 Madrid) - Hmm, I may need to look into '89 more. I'd always thought of it as a kind of blah touring year, but this version of a Hank Williams gospel number is very focused and driven, featuring some great (as if there's any other kind) guitar work from GE Smith.
11. Pancho and Lefty (6/21/89 Cava de Tirreni Italy) - Bob did this Townes Van Zandt number (though you may know the Willie Nelson version) in 89, 91, and once in '04 at Bonnaroo (which featured a very unusual setlist). In addition, he performed it with Nelson himself at Nelson's Big 6-0 birthday concert in 93. That one may be better than either of the versions here and, as a bonus, has a video, though someone (GE?) is duetting with him in the 89 version too.
12. Key to the Highway (1/12/90 New Haven) - This fit right into the loose Toad's Place show, but must have been a much bigger surprise coming out one more time in '95. The '90 version is pretty loose, Bob just repeating verses at random, but the 95 version features a much tighter band and more-on-top-of-the-song Bob.
13. Shenandoah (11/2/90 Lexington) - This is a very short and ambiguous instrumental version of, apparently, Shenandoah, though it doesn't sound particularly like it to me.
14. Old Macdonald (11/14/90 Normal) - See previous comment, but change the word "Shenandoah" to "Old Macdonald". If you say so.
15. Pass Me Not, Oh Gentle Saviour (2/24/99 Amherst) - One of the great religious covers of the 99-01 era, it features Larry and Charlie's backing vocals which, as usual, take the song to a whole different level entirely. Performed five times, it was gorgeous in 99 and, as tended to be the case, even better in 2000 (aided by Larry's great mandolin).
16. The Wanderer (w/ Paul Simon) (9/8/99 Antioch) - When Paul Simon and Dylan did a co-headlining tour, they did a few duets of covers (Sound of Silence, The Boxer, Blue Moon of Kentucky, and That'll Be the Day). While none are particularly special, it's fun to hear Dylan busting out this 60's motown gem, and he winds up catchy in spite of himself.
17. Hoochie Coochie Man (11/11/99 Augusta) - Now, honestly, what musician who has ever heard the word "blues" hasn't covered this one (it's by Muddy Waters originally, in case you live in a hole). I saw Buddy Guy do it last autumn, as it was mind-blowing. That same adjective doesn't quite describe Dylan's take on it, but he does a nice job with it, really focusing on the vocals in a way that brings the song out of the muddle it could easily fall into. Commited the whole way through.
18. Instrumental (4/13/02 Hannover) - I have no idea what this is, but I like it.
19. You Win Again (6/11/04 Manchester) - Bob first played this Hank Williams song on the Basement Tapes, but it made its live debut eight years later, with the Dead in '03...then once in '04...then once in '05, with Willie Nelson at Willie's Fourth of July concert. Whenever Bob takes on a Hank tune, he puts a lot in it, and this is no exception.

http://rapidshare.com/files/11777584/SP_5-2.zip.html

SEMI-PRECIOUS MEMORIES VOL. 6
Disc 1
1. Hard Times In New York (1/13/62 NYC)
2. Standing On The Highway (1/13/62 NYC
3. Talkin' Bear Mountain Picnic Massacre Blues (2/62 NYC)
4. Man On The Street (2/62 NYC)
5. Handsome Molly (10/62 NYC)
6. Rocks And Gravel (10/62 NYC)
7. Who Killed Davey Moore (10/26/63 NYC)
8. From A Buick 6 (9/3/65 LA)
9. Wedding Song (2/9/74 Seattle)
10. Spanish Is The Loving Tongue (5/11/76 San Antonio)
11. Deportee (w/ Joan Baez) (5/16/76 Ft Worth)
12. Lonesome Bedroom (2/23/78 Tokyo)
13. The Groom's Still Waiting at the Altar (11/19/80 San Francisco)
14. Jesus Is The One (7/15/81 Bad Segeberg)
15. No Money Down (vocals: Larry Keegan sax: Bob Dylan) (10/21/81 Boston)
16. Why Do I Have To Choose (6/24/84 Milan)
18. When The Ship Comes In (7/13/85 Philadelphia)
19. Instrumental (2/11/86 Sydney)
20. Go Down Moses (10/17/87 London)

http://rapidshare.com/files/11777931/SP_6-1.zip.html

Disc 2
1. Hallelujah (8/4/88 LA)
2. Congratulations (6/7/89 Birmingham)
3. House Of Gold (6/28/89 Athens)
4. Lonesome Whistle Blues (1/12/90 New Haven)
5. Wagoners Lad (10/23/90 Charleston)
6. Old MacDonald (11/3/90 Carondale)
7. Shenandoah (11/4/90 St. Louis)
8. Tupelo Honey (w/Van Morrison) (2/6/91 Belfast)
9. Key To The Highway (9/23/95 Ft Lauderdale)
10. Restless Farewell (11/19/95 LA)
11. The Wanderer (w/Paul Simon) (9/9/99 Noblesville)
12. Hoochie Coochie Man (11/13/99 East Rutherford)
13. Pass Me Not Oh Gentle Saviour (3/21/00 Pullman)
14. Instrumental (4/20/02 Milan)
15. Happy Birthday (2/21/03 Auckland New Zealand)
16. You Win Again (6/8/03 Columbus)
17. A Change Is Gonna Come (3/28/04 NYC)
18. Pancho And Lefty (6/11/04 Manchester)

http://rapidshare.com/files/11778676/SP_6-2.zip.html