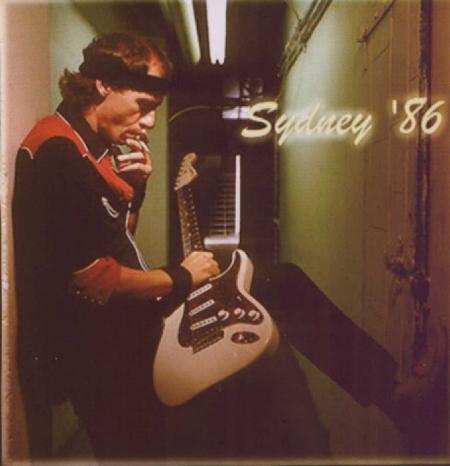 When people think of incredible, influential bands, Dire Straits may not be one of the first names that comes to mind. But it should be. Is there a song more beautiful than "Your Latest Trick"? Well, maybe "So Far Away"? Even more beautiful than that? Only "Romeo and Juliet". And, on the other side, what song rocks harder than "Money for Nothing", swings crazier than "Walk of Life", or moves you like "Brothers In Arms"? Not to mention the classic "Sultans of Swing", which somehow never gets old.

In 1985, the band embarked on a world tour of unprecedented proportions. Promoting their hit album

Brothers in Arms,

the treck included a thirteen-night residence at Wembley Arena (featuring Eric Clapton helping out) and a brief jaunt at Live Aid (featuring Sting), before winding up in Australia in the Spring of 86. They ended with a 21-night stand at Sydney's Entertainment Center, packing the place every night, and wrapping it all up with one final show on April 26th. The show was filmed and broadcast on Australian and New Zealand television, and as a result has provided an incredible soundboard recording. Featuring the one-off calypso version of "So Far Away" and an impromtu version of the Australian folk anthem "Walktzing Matilda" (with the whole stadium providing the vocals), it is truly a show for the ages. Frontman Mark Knopfler is without question one of the premier guitarists of the last couple decades, his understated guitar licks free of ostentation, no note out of place. Watching him, he looks like he's not even paying attention to what he's doing as incredible solos and fills emanate from his fret board. Listen to "Solid Rock", "Money For Nothing", "Industrial Disease" and, of course, "Sultans of Swing" to hear him at his finest.
Another player who shines in this show is saxophonist Chris White. An auxiliary touring member of the band from '85-'95, in song and song again he pulls more emotion out of a metal tube than I ever thought possible. "Your Latest Trick" is his moment to shine, making a reasonably simple riff one of the most powerful moments of the concert. Perhaps even better, though, are his instrumental-duets with Knopfler, like in "Going Home (Theme From Local Hero)" where they play the same solo, only to branch off in different ways as the

solo(

s) progress. Or "Ride Across the River", in which he plays flute in an extended call-and-response with Knopfler's guitar.

T

his show represents a band at their very finest, a band that has perfected the art of transitioning from structured verse/chorus parts to solos and back, bringing the audience along on an emotional and gorgeous journey for each and every song. To demonstrate, here are a few videos:





Ride Across the River


Industrial Disease



Sultans of Swing (cut down to ten minutes, unfortunately)

And now, here is the full concert, in mp3 form. Enjoy!

Dire Straits
April 26, 1986
Sydney Entertainment Center, Sydney, Austrailia
2:11:04

Disc 1
01. Ride Across the River (10:41)
02. Expresso Love (6:50)
03. Industrial Disease (5:51)
04. So Far Away (7:15)
05. Romeo & Juliet (11:17)
06. Private Investigations (8:26)
07. Sultans of Swing (11:41)
http://rapidshare.com/files/56310681/Dire_Straits_-_Sydney__Australia__4-26-86_.part1.rar


Disc 2
01. Why Worry (7:29)
02. Your Latest Trick (5:01)
03. Walk Of Life (6:44)
04. Two Young Lovers (9:03)
05. Money For Nothing (8:02)
06. Tunnel Of Love (11:24)
07. Brothers In Arms (7:59)
08. Solid Rock (4:31)
09. Waltzing Matilda (2:10)
10. Going Home (Theme From Local Hero) (4:51)
http://rapidshare.com/files/56325998/Dire_Straits_-_Sydney__Australia__4-26-86_.part2.rar